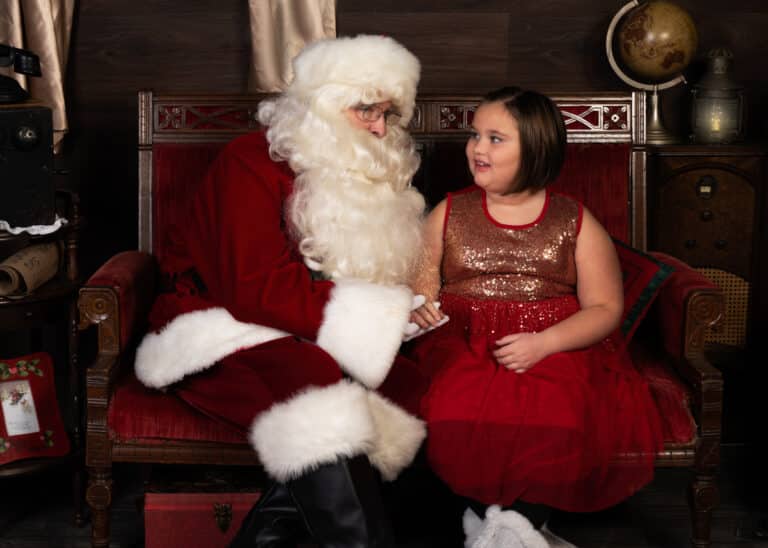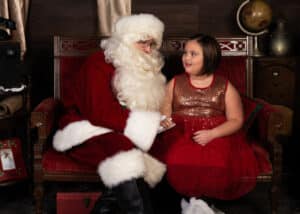 Nebraska Headshots carried on a holiday tradition for the last year in studio.  We hosted our Santa Story Sessions after having a couple years off due to covid. These Story book sessions have been photographed in my studio in Omaha, Nebraska.
The Santa story sessions are a way to get joy in the season and make the kids happy. The idea is to have the kids come into a studio and tell their own story of what they want for Christmas while they sit next to Santa.  The visit can be extended to include a story and a book.  We host the Short Santa sessions and also the Story sessions.
This year's story line was a dream where they found themselves at the North Pole in Santa's late 1800's set and had fun activities with Santa.  The dream comes to a close at about ½ hour but the Kids are full of wonderment and glee.  Santa Gary comes into studio and is a professional actor who makes those kids who are on the fence believe one more year.  They get their story book, mounted images for Mom and a box of prints all their own.  I have been super busy editing all of the images and creating the books.
As I have transitioned into a headshot and commercial photography this last year, the 2022 Holiday session will not continue in studio next year.  If Santa Gary and I have enough requests, we will consider a mall next year between Halloween and Thanksgiving.  Do you think that is too early?  Heck No if you want your products before Christmas.  The print houses now have a deadline of submission for 12/3.
Enjoy the wonderment of a few of my Christmas clients this year and have a safe holiday season everyone!  I return to studio tomorrow to work on photographing some still life and table top work tomorrow.  Enjoy this magical season everyone!